Well it has final surfaced, the much anticipated GPX6000, albeit the GPX6000 has first been spotted in a Minelab dealer in Dubai. It looks like the Middle East region will be one of the first places to receive the anticipated new model. Happy to say that the previous articles I released on the GPX6000 where all true and not fabricated as some may have wanted you to think.
Below a video showing the GPX6000 unboxing and accessories, although it is not in English you are able to pickup enough of what is being said.
What we know from the video is that the detector has wireless audio, comes with [2] standard mono coils and various charging cables, and looks very much like a small GPZ7000/Monster1000. I note that the coil cable is on the outside of the shaft, which I assume is to make it easy to use the current GPX coils available on the market. I have heard however that the aftermarket coils are not as sensitive as the supplied [2] coils, only time will tell.
The specification sheet has some interesting specs on it. There are only [2] ground types [Difficult/Normal], Threshold is On/Off, coil is submersible and the housing is only splash proof.
The most exciting feature I was not expecting, is that the GPX6000 comes with GeoSense-PI. what will this actually mean? I hope extremely well handling of highly mineralized ground. I suspect being a new technology that it will be version 1 with more features to come. If the GPX6000 is software upgradable? then future features maybe added during the lifecycle of the detector.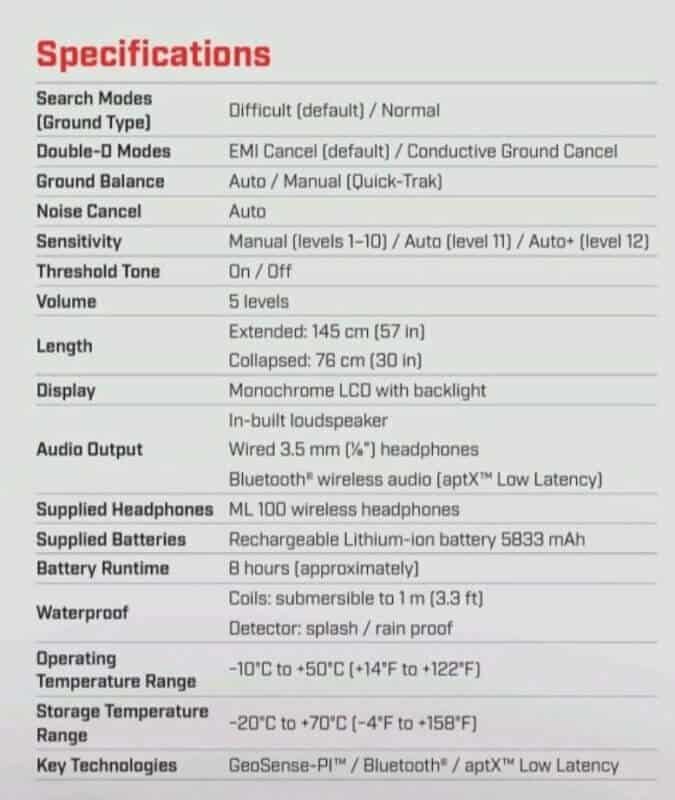 The following images have been included showing various aspects of the GPX6000.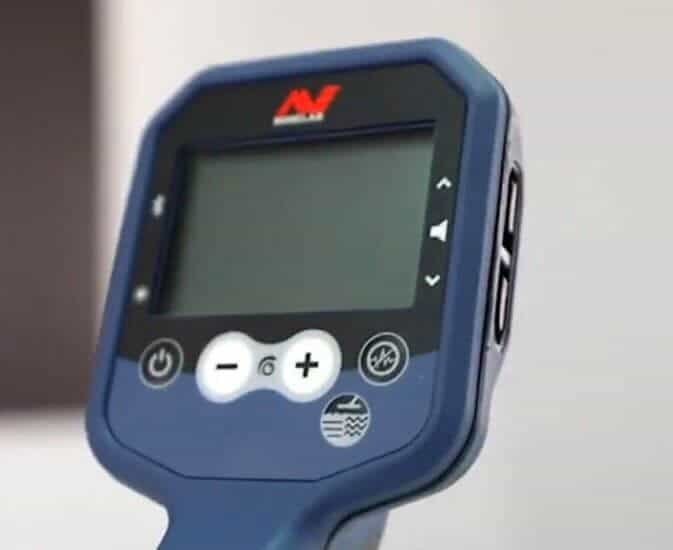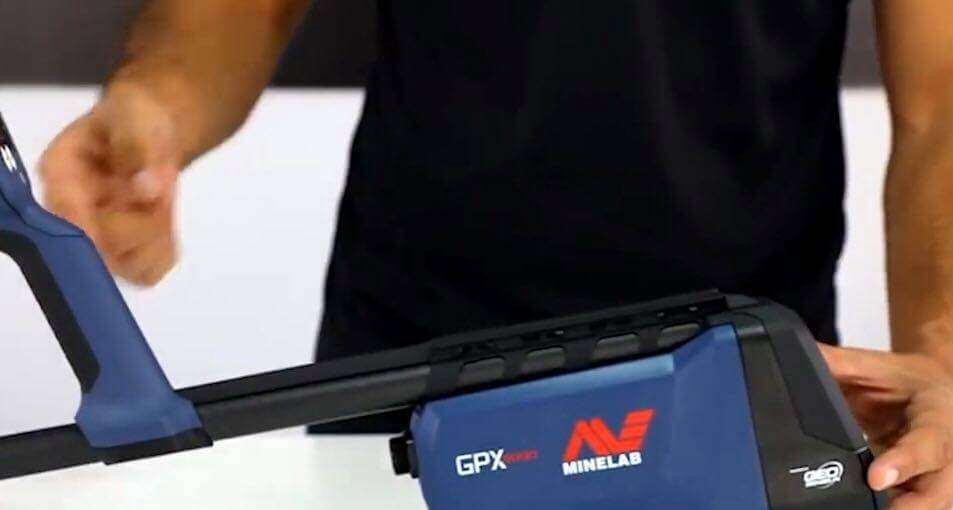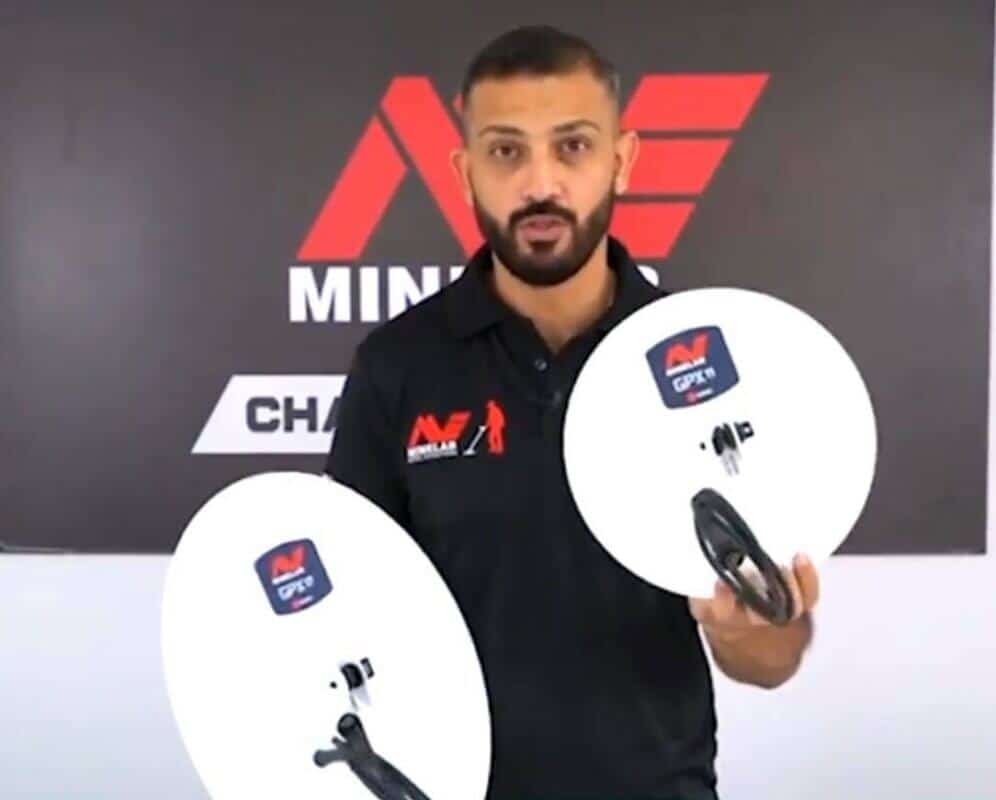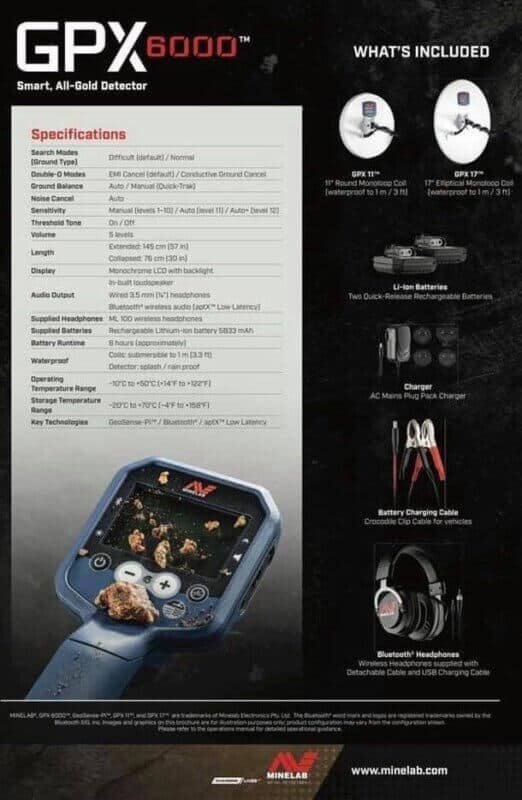 Price at this stage is still unknown however I did hear a figure of $US3999, if correct then it would bring it to around $AUS5000-5500 which would be inline with the outgoing GPX5000.
Please leave a comment if you find this information of value and I thanks the source kind enough to supply me with this information [you know who you are 👍]
Stay Safe